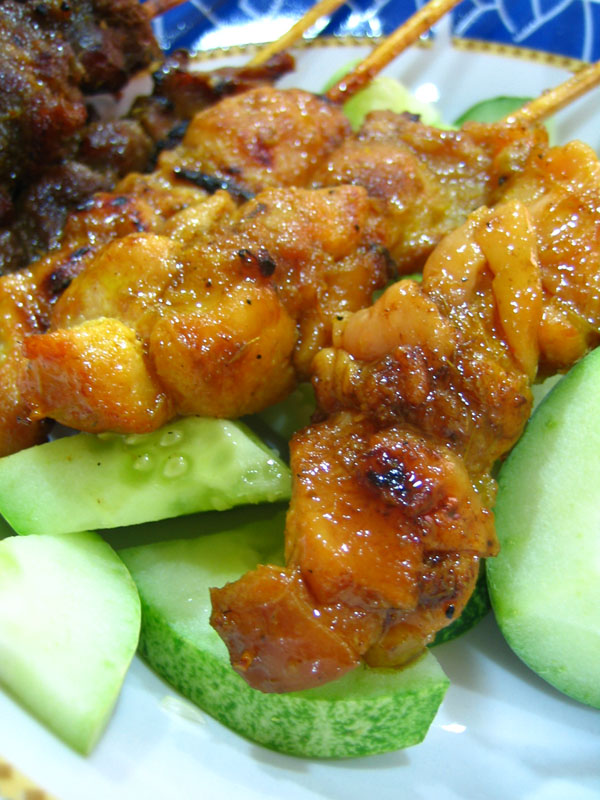 Arini kitorg mkn2 sate kt klinik...my superior blanje...tu ler psl sate yg sedap tu jd lagi dan lagi dan lagi sodap!! Bile cite psl sate nie, i'm pretty sure that everyone had their own good time eating this irresistable pieces...as for me, unforgettable moments were when.....
makan satay kajang hj samuri

- during student days plg slalu mkn sate kajang nie...so bila nmpk jer sate kajang hj samuri automatically akan ingat kt ol' frens during those undergrad days....bukan sate tu je yg special tp masa2 berkumpul dan mkn sama2 tu yg x leh lupe...miss 'em all
breakfast makan sate @ muar

- perrrggghhhh...ni lg best giler...masa tu seumur idup blum jmpa org mkn sate pepagi buta...so, bila dpt mkn sate pagi2 nie trus teringat kt sate muar, especially yg depan bus stand dulu tu....after all muar nye food mmg marvelloussss!
sate masa open-house 2008

- nie pun x leh lupe gak...last year nye open-house ada order sate selain mende2 lain...sate tu bakar on the spot kt depan umah...sbb sedap sgt kot makan sate panas2 sampai x cukup plak...n guests yg dtg lewat kena tunggu sekejapppp....sementara kitorg g membeli sate lain dr nearest stall....
So pelagi...jom mkn sate!! yummy...
p/s: Happy bday to suri....mate, hope that all ur wishes will come true..
I celebrate kan dgn mkn sate kt sini ek.... ;)